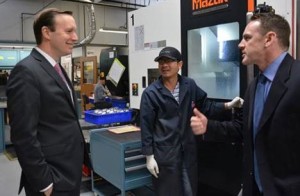 HARTFORD – U.S. Senator Chris Murphy (D-Conn.) announced on Monday that Beta Shim of Shelton is this week's "Murphy's Monday Manufacturer." Founded by John McCue in 1975, Beta Shim is a family-owned and operated manufacturer of machined aerospace components. The Shelton manufacturer provides metal stamping and forming services, CNC (Computer Numerical Control) Turning and Milling, lamination, and other capabilities to customers, including the U.S. Department of Defense and Sikorsky. Murphy toured the facility and hosted an employee town hall on April 13, 2017.
With the help of 56 hardworking Connecticut employees, Beta Shim is, at any given time, prepared to manufacture 10,000 different types of components for Sikorsky. The company even developed their own computer software to track the thousands of work orders in their system. Beta Shim partners with the Housatonic Community College Advanced Manufacturing program to provide internships, training, and full-time employment opportunities to its graduates. The Shelton company is also proud to work closely with various local suppliers, such as Prestige Industrial Finishing, Milford Fabricating Company, and Richards Machine Tool Co Inc.
"I visited Beta Shim last week to see the awesome work they're doing for Sikorsky, and to learn how I can help them be a part of Sikorsky's big Black Hawk ramp-up," said Murphy. "Thanks to the McCue family for their commitment to Connecticut, to Sikorsky, and to all of Beta Shim's workers."
The manufacturing industry plays a crucial role throughout Connecticut communities, creating new jobs and accelerating our state's economic recovery. Today, Connecticut's 4,600 manufacturers account for 10% of the state's jobs and 87% of the state's total exports. In order to protect and grow manufacturing jobs in Connecticut, Murphy has introduced two pieces of legislation that aim to strengthen existing standards and prioritize the purchase of American-made goods, the 21st Century Buy American Act and the American Jobs Matter Act.